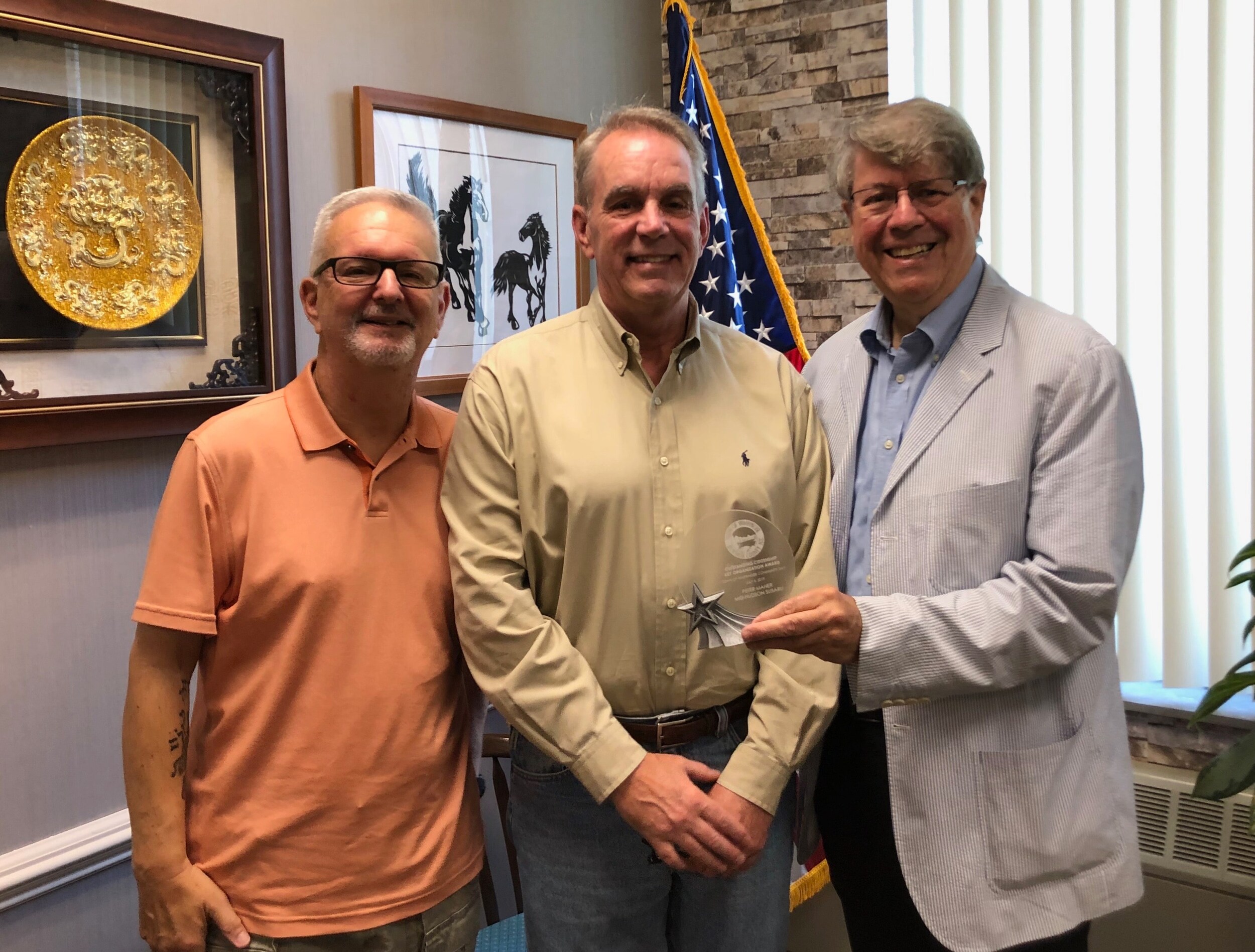 Mid Hudson Subaru Owner Peter Maher Receives the Outstanding Citizenship Award from the Town of Wappinger
​The Town of Wappinger honored Peter Maher, Owner of Mid Hudson Subaru with the Outstanding Citizenship Key Organization Award. He was invited to visit with Town Supervisor Richard Thurston to receive the award.
Maher was chosen thanks to his ongoing dedication to the people of the Hudson Valley. He has helped raise close to $150,000 for Grace Smith House, over $106,000 for Sparrow's Nest Charity, and $60,000 for the Hudson Valley Hero Project through the Subaru Share the Love initiative. Mid Hudson Subaru hosts the annual Q92 coat drive collecting thousands of coat donations every year, which are distributed across every county in the Hudson Valley.
Under Maher's leadership, Mid Hudson Subaru became the first Subaru Eco-Friendly Dealership in the nation in 2012, and earns Subaru Customer and Community Commitment awards every year.
Maher employs over 100 people and was named Dutchess County's 2016 Business Person of the Year. Peter cares deeply about the community in which he lives, runs two businesses and raised his family. He contributes regularly to many local schools and organizations including: 
George Fischer Middle School in Carmel

Horizons on the Hudson School in Newburgh

Community Action Partnership of Dutchess County
Grinnell Library in the Village of Wappingers
Bannerman Castle Trust
Literacy Connections of the Hudson Valley
Town of Fishkill PBA
Arlington High School Garden Club  and Band Booster
Oak Grove Elementary School in Poughkeepsie
Maria Fareri Children's Hospital
Hudson Valley Animal Rescue and Sanctuary
Maher expressed his gratitude to Town Supervisor Thurston and said "Thank you so much, but to me it's natural to want to give back - this community means everything to me. I don't understand why every business owner doesn't do everything they can to give back to their customers, neighbors and employees who make up the Town of Wappinger and Dutchess County. I am humbled and honored by this award."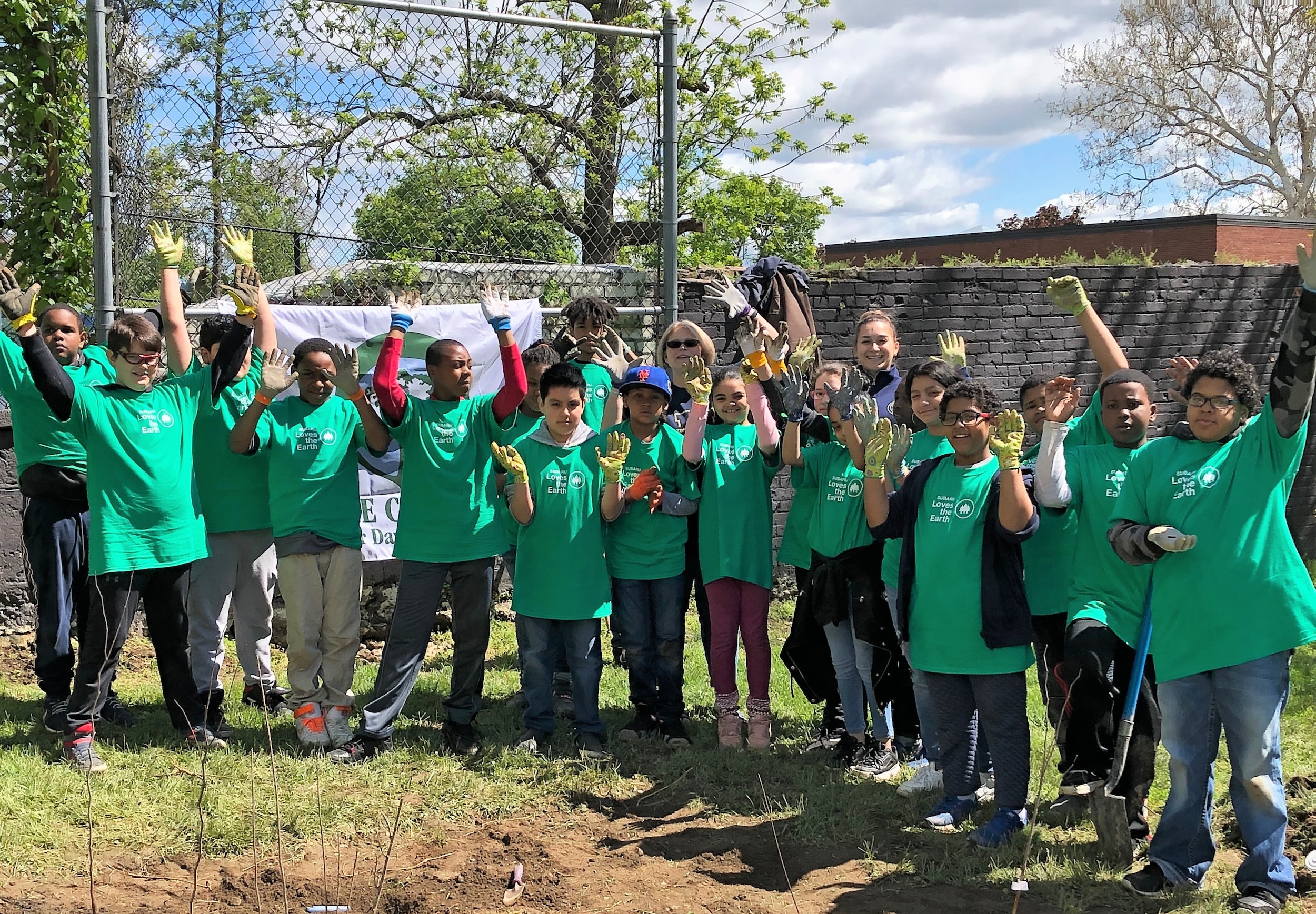 Mid Hudson Subaru Presents Donation of Trees to the City of Newburgh's Crabb Park and Horizons on the Hudson School
​Eighteen students from Newburgh's Horizons on the Hudson Elementary School planted a tree nursery on Wednesday for shade and ornamental trees that were donated by Mid Hudson Subaru of Wappingers Falls in honor of Earth Day 2019.
The dozen baby trees were planted in Tyrone Crabb Park at the corners of South and Grand Streets, adjacent to Horizons on the Hudson School. Just two feet high right now, the bareroot trees, including Eastern Redbuds, Red Maples and Black Tupelos, will be tended by Horizon students until they are strong enough to be replanted in tree-less areas around the city that have been recognized as "heat islands".
Horizons Principal Robert Glowacki, fifth grade teachers Ms. Bonne and Ms. Zeffiro, Assistant Superintendent of Finance Mr. Gregory Kern, Chairman of the Conservation Advisory Council of the City of Newburgh, Chuck Thomas, City Council Member Anthony Grice, gardeners Genie Abrams and Kippy Boyle, and Peter Maher, owner of Mid Hudson Subaru, and some generous local volunteers, joined the students under a sunny sky to prepare the plot and plant the trees at Crabb Park.
The students donned green Subaru Loves the Earth t-shirts and gardening gloves, and Genie Abrams taught the class what the young trees need to take root and grow over the next two years in their care. Ms. Bonne used the opportunity to teach real-life biology and math lessons while the students got to work pulling rocks out of the cleared patch of dirt. They took turns aerating the soil, digging holes, planting the trees and watering them, finding plenty of earthworms along the way.
Principal Glowacki chose the ICT class, whose students face many challenges, for this project to give them a chance to get outside and learn by getting their hands dirty. It was clear how grounding the event was for the 10-13 year olds and how much fun they had creating the tree nursery. "My favorite part of this project was being outside in the park and learning about how trees grow", one fifth grader said as he brushed dirt from his knees with a big smile on his face.
Named for Tyrone Crabb, the park opened in May of 2015. Crabb was elected Mayor of the City of Newburgh in 1999, and died only days before he was to take office. Reconstruction of the long vacant lot chosen for Crabb Park began to take shape in 2014 and now serves as a green community gathering place in the heart of the city.
Mid Hudson Subaru, the first Eco-Friendly Subaru Dealership in the Nation, coordinated today's event as part of the Subaru Loves the Earth initiative. "Planting trees is a small way to make a big impact and give these incredible kids something to care for and a day to remember for years to come", said Peter Maher, owner of Mid Hudson Subaru. "We were honored to work side-by-side with these fifth graders today, and know they will grow up as strong as the trees they planted."
"We are very grateful to Mid Hudson Subaru for the donation of these trees, which will provide shade, clean our air and water, reduce excessive heat, provide food and shelter for birds and improve the quality of life for all of us with their beauty," said Chuck Thomas.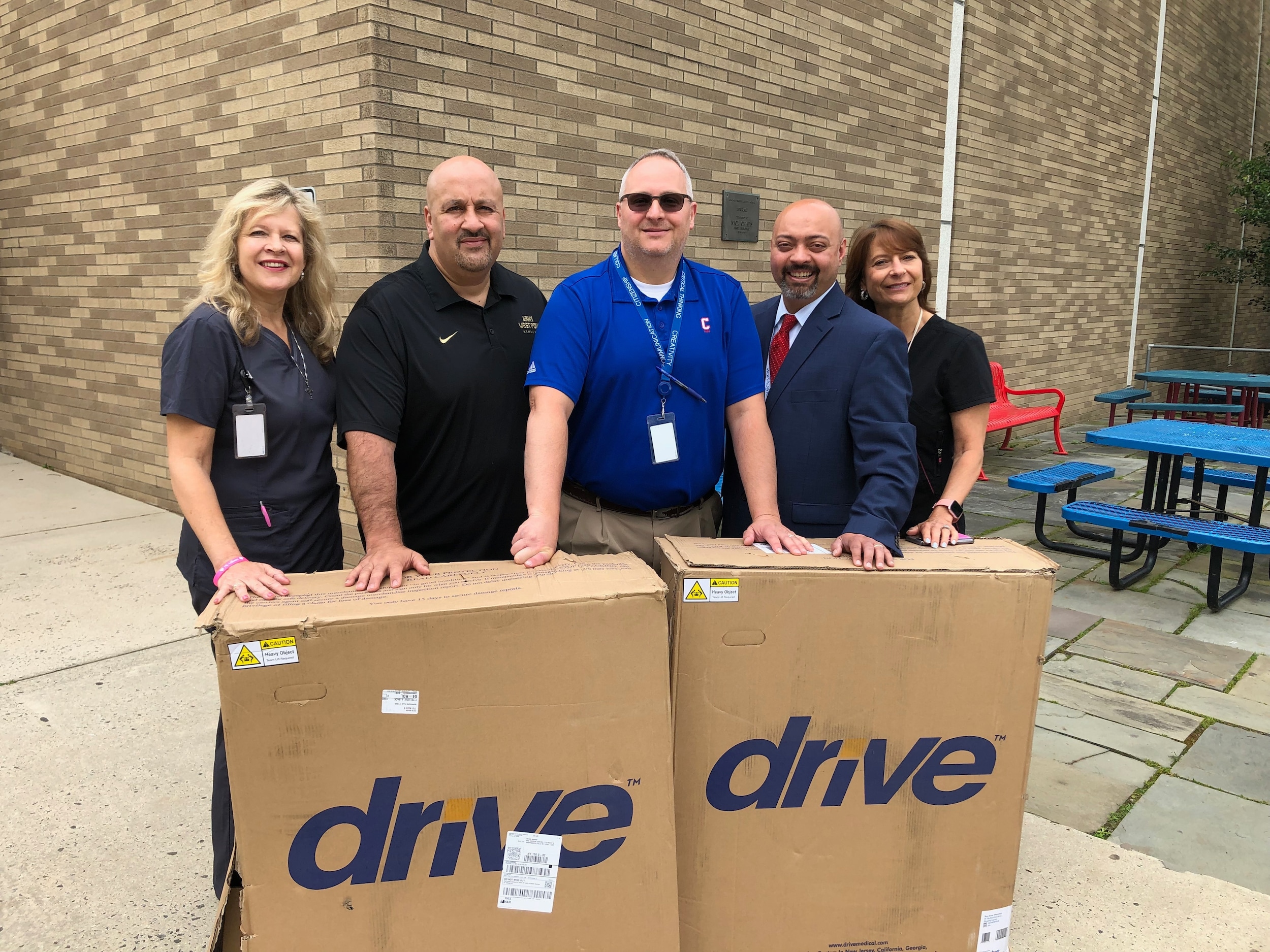 Mid Hudson Subaru Donates Much Needed Wheelchairs to George Fischer Middle School
Mid Hudson Subaru Sales Consultant Jose Sierra got a call from Chris Barrie, the Assistant Principal of George Fischer Middle School in Carmel, NY. Chris is a long time customer of Jose's and when he said his school needed to replace their wheelchairs - donated by Mid Hudson Subaru a few years back - Jose went straight to owner, Peter Maher, who was happy to help out again.
School nurses Carol Burns (left) and Nancy McCormack (right) joined Principal John Piscitella (center) and Chris Barrie (right of Piscitella) on June 19 to accept the donation of two Drive Medical Blue Streak Wheelchairs, presented by Jose Sierra and Heather Cottrell. Peter Maher was unfortunately unable to attend.
The nurses expressed gratitude for the new wheelchairs that will replace the two they have, one with an armrest held on with packing tape. The chairs are used to transport students who may fall ill or get hurt while at school.
"This is fantastic! Thank you so much Mid Hudson Subaru!" wrote Andy Irvin, Superintendent of Schools, Carmel Central School District, wrote when he received the news.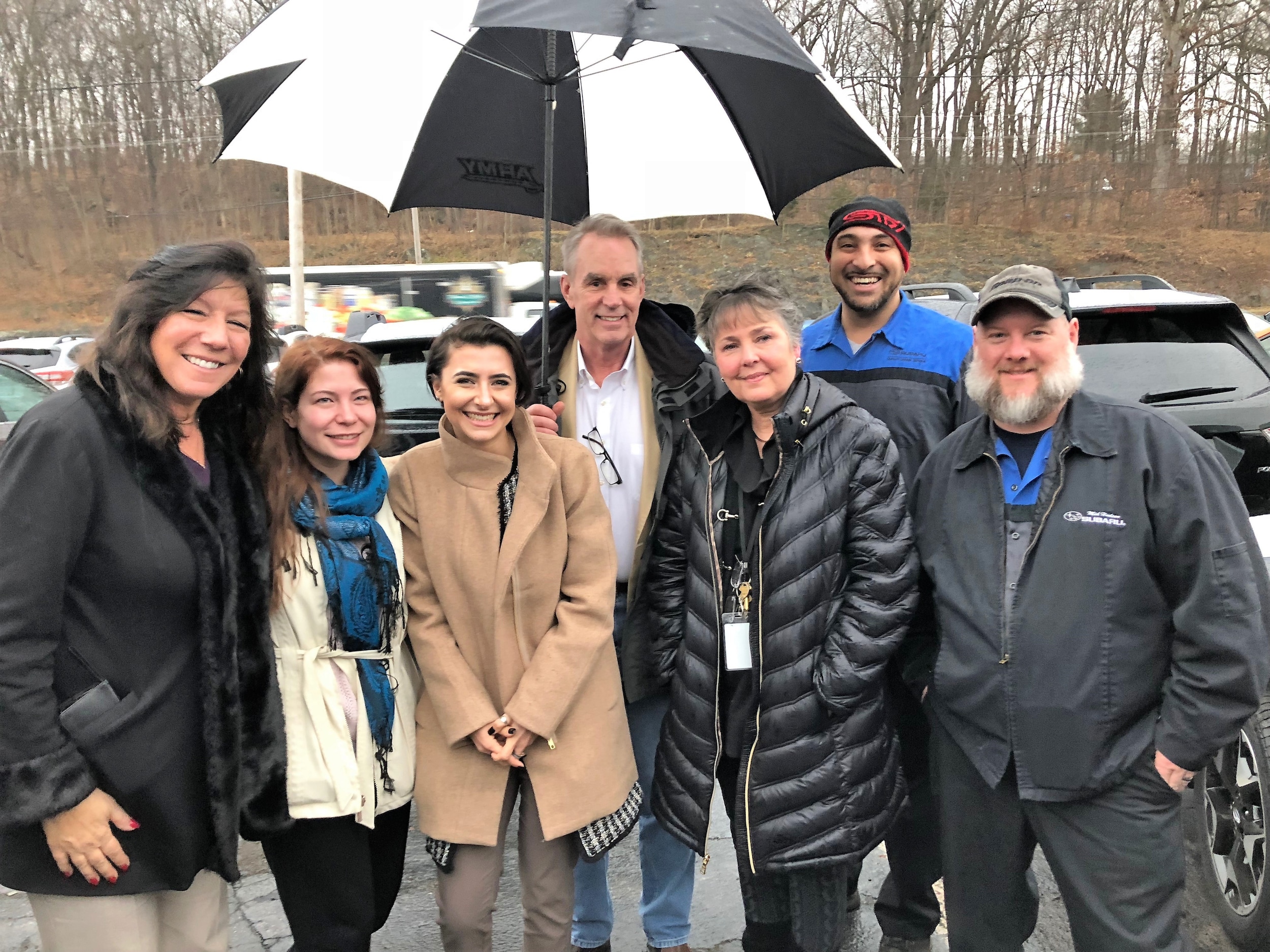 Local Family Gives the Gift of Subaru to Local Vets in Need
One afternoon Peter Maher, owner of Mid Hudson Subaru, received a call from Elaine Trumpetto, Executive Director of The Council on Addiction Prevention and Education of Dutchess County (CAPE) and Subaru customer. Her family had a gift to give and needed help to get it done.
Elaine lost her husband of 36 years, John Trumpetto, when he died suddenly in September of 2016. As she and her daughter Brynna Trumpetto went through John's things they discovered he had once donated a car to the National Vietnam Veterans Association. They decided then to donate their two black Subaru Imprezas, valued around $5K each, to local veterans in his honor.
Elaine began the process of making calls and months went by with no outcome. That's when she thought to give Peter Maher a call. A long time customer of Mid Hudson Subaru, she knew Peter's charitable reputation and thought he might be able to help.
Peter has long supported local veterans. In 2017, Mid Hudson Subaru presented the Hudson Valley Hero Project with a check for over $60,000 to support local active and retired veterans in need as part of the Subaru Share the Love initiative. Mid Hudson Subaru is proud to employ veterans as technicians, sales consultants and in other positions.
He reached out to his friend "Uncle" Mike Hansen, on-air personality at WRWD in Poughkeepsie, and member of the Advisory Board of the Hudson Valley Veterans Alliance. Mike immediately reached out to the folks he works with at HVVA and the local Vet2Vet Program to connect the Trumpetto family with local veterans in need of cars.
Mike's son, Tim Hansen of Mystic Towing donated his time to pick up the two Imprezas, which had been sitting in the Trumpetto's driveway for over a year, and bring them to Mid Hudson Subaru. Peter asked for technicians to volunteer their time to work on getting the donated cars tuned up and ready for the road, and Scott Woomer, US Navy, and Jesus Rodriguez stepped forward.
Mid Hudson Subaru supplied the parts, at a cost of approximately $1500 for each car, and Scott and Jesus did the work in their spare time on nights and weekends.
Finally, the cars were fully detailed, inspected, topped with red bows, American car flags and colorful balloons, and parked in front of the dealership.
On Thursday, December 20, 2018 at 3:30 PM "Uncle" Mike of WRWD broadcast live, during Chase Daniels' afternoon show, from Mid Hudson Subaru as Peter Maher had the honor of presenting a reconditioned Subaru Impreza, donated by previous owner Brynna Trumpetto, to Jayme Babon. A US Army veteran, National Guard Reservist and single mom, Jayme has been struggling to adjust back to civilian life and has been walking to work every day. Jayme welled up with tears as she expressed her surprise and gratitude, saying "I am very blessed to have you all in my life… this will help myself and my son to move on, to move forward!"
A second Impreza, once belonging to Jared Trumpetto, is being donated to Kyle Feth, USMC, of Pleasant Valley. Kyle was unable to attend the event at Mid Hudson Subaru and exclaimed "you guys are really unbelievable!" as he broke down crying when he got the news via a phone call from the Vet2Vet Program.
Everyone in attendance, including State Senator Sue Serino and Marc Coviello, Director of Dutchess County Division of Veterans' Services, was visibly moved by the kindness and generosity of the people who made this happen, and especially by Jayme's genuine appreciation. After she started her new car, Jayme took the time to share hugs and hand-shakes. "I just can't wait for my son to see me driving again… this is going to mean so much to him!", Jayme said, as everyone stood in the pouring rain with smiles on their faces and tears in their eyes.
"Thank you so much for getting us involved", Peter Maher said to Elaine Trumpetto. "It is truly an honor to have the opportunity to show our deep respect and appreciation for veterans this way, especially at this time of year." He then turned to Jayme to say "Thank you for your service, and Merry Christmas!"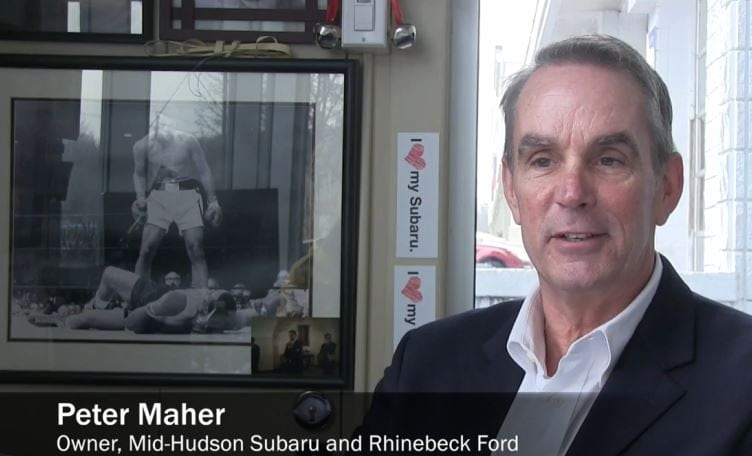 Peter Maher Named Business Person of the Year
Peter Maher's office at Mid Hudson Subaru is not tucked away in the back of the dealership. You'll find the owner's office just to the left of the front door. The surface of his modest desk is obscured by layers of paper and reports so thick, they ought to be excavated, not stacked. An admin sits not outside, but rather in the same, snug space.
However, Maher's office does offer one expansive benefit: the tall windows give him a clear view of Route 9, one of the arteries of what has been at the center of both his business and charitable works. "For us, it's all about local," said Maher, the 2016 Poughkeepsie Journal Business Person of the Year. "It's all about taking care of local organizations and local people." Maher owns two dealerships in Dutchess County. He opened the Subaru franchise in 2007. He took over Rhinebeck Ford on Route 9G in 2015. They are the result of a lifelong dream rooted, he says, in a desire to establish clear ethics in a business not always known for them.
"I saw a lot of stuff in the car business that was not straightforward or honest," he said. "I've never subscribed to that." Maher credits his father, a country lawyer based in Carmel named Richard Maher, for passing those values on to him and his six siblings. In the 1970s, Peter Maher's parents divorced. His father sued and won custody of all seven children. 
"He pretty much single-handedly raised seven kids," Maher said. Six of them had left the family home in Yorktown Heights when Maher's father turned to Peter, then in his 20s, and said he was selling the house. That meant Peter could no longer continue living in the basement. And so a career in car dealerships began, first in service departments, then in sales and management. In 2002, Maher took the leap to ownership, buying a share of a Hyundai dealership in Mount Kisco co-owned by the Healey Brothers automotive group. It was a big step. But being an owner, he said, actually brought less pressure. 
"If I lost my own money, I lost my own money," he said. "If I lose somebody else's money, that is devastating to me." The Mid Hudson Subaru franchise represents his first sole-proprietorship. "He is a good community guy," Healey Brothers co-owner Dwight Healey said. "He employs a lot of people, and that speaks volumes. He is a terrific guy." 
His focus on local service emerged in 2013, when he lobbied Subaru of America's corporate leadership to allow dealers to direct the proceeds from the company's annual "Share the Love" charity fundraiser to local nonprofits. At the end of each year, the company donates $250 for every new Subaru bought or leased. Customers can choose the charity. In past years, Subaru had directed the money to national charities. Last year, Mid Hudson Subaru raised $43,000 for Grace Smith House, which serves survivors of domestic violence. Last summer, Maher, his wife Wendy and his teenage son Jesse, showed up for Grace Smith House's four-day, anti-bullying workshop for middle school students, Connect for Respect. The family brought a popcorn machine and a freezer full of ice cream and Popsicles. "They stayed all day and supported our students and our staff," said Grace Smith House Executive Director Michele Pollock Rich. "That is really amazing. He is giving not just of his business side, but also of his time." 
When Arlington High School's marching band needed to raise money, Mid Hudson Subaru provided a car at a reduced cost that the band could raffle off. 
The dealership is also known for its long-running coat drive. Thousands of coats are collected, packaged and distributed to nonprofit partners every year. One day, a woman living in an efficiency motel in Highland called the dealership, asking if she could receive a coat. Wayne Byington, a salesman and manager at Mid Hudson Subaru who lives in Highland, said he would drop it off. On the way, he picked up his teenage son. When they arrived at the motel, Byington gave the coat and $50 to his son, who presented the items to the woman. Byington said that when he looks back on that moment, he credits his boss's local-first focus. "That lady lives in my own town," he said. "If I can help anybody, I'd like to help somebody who lives in my own town." 
John Ferro: 845-437-4816, jferro@poughkeepsiejournal.com, Twitter: @PoJoEnviro
​
Grace Smith House Chosen as Hometown Charity
For three years in a row, Mid Hudson Subaru chose Grace Smith House for their local charity in Subaru's annual Share the Love event. Grace Smith House serves the survivors of domestic violence.
$250 at Grace Smith House can provide
SAFETY: a night at an emergency shelter for a family of four
HEALING: a month of therapy for a child who has experienced a trauma
EDUCATION: a workshop for 90 youths about teen dating violence and healthy relationships 
A NEW BEGINNING: necessary food and supplies for a local family getting back on their feet in a new apartment
Over the past three years, Mid Hudson Subaru has raised over $110,000 for Grace Smith House through the Share the Love program.
The mission of Grace Smith House, Inc. is to enable individuals and families to live free from domestic violence through: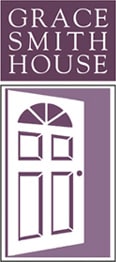 * Providing shelter and apartments, advocacy,
       counseling and education 

    * Raising the consciousness of the community regarding the
       extent, type and seriousness of domestic violence

    * Initiating and taking positions on public policies in order to
       provide options which empower victims of domestic violence



The Subaru Share the Love Event happens at the end of every year, between mid-November and early January. For every new Subaru vehicle sold or leased, Subaru will donate $250 to the customer's choice of four national charities and one local charity.

Visit Grace Smith House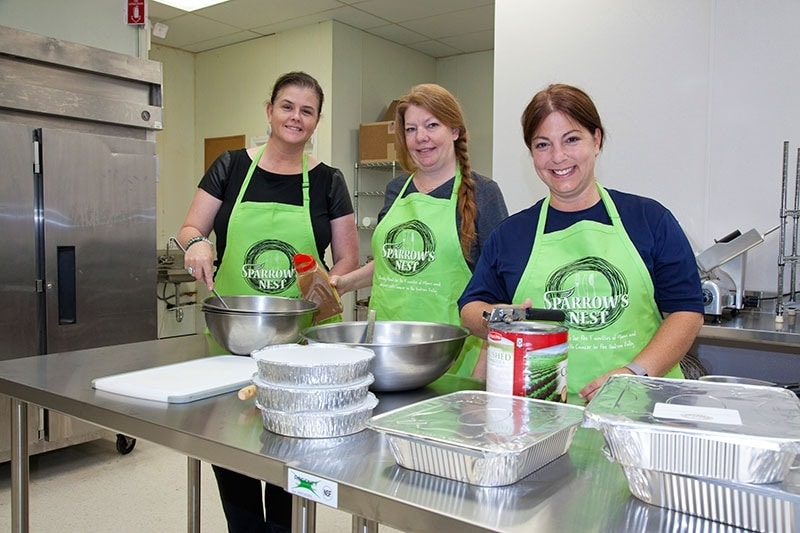 Share the Love with Sparrow's Nest
We are honored to partner again this year with Sparrow's Nest of the Hudson Valley as our local hometown charity for Subaru's annual Share the Love Event.
During the Share the Love Event, Subaru donates $250 to a charity of the customer's choice for every new Subaru vehicle sold or leased from November 15, 2018 - January 2, 2019. Charities of choice include a local charity and this year Mid Hudson Subaru is proud to partner again with Sparrow's Nest of the Hudson Valley.
Krista Jones, Founder and Executive Director, started Sparrow's Nest with the idea of cooking meals for families of local moms diagnosed with cancer. The dream started with 6 families, and has grown into feeding over 1,500 people. The charity expanded its mission to include children diagnosed with cancer as well.
Sparrow's Nest prepares and delivers homemade meals to families with someone in the home facing a cancer diagnosis within the Hudson Valley. Qualifying recipients are those undergoing chemotherapy, radiation or surgery. Sparrow's Nest also feeds recipients under hospice care and will feed a family who loses a loved one to cancer for up to a year. They currently prepare nearly 850 meals, and spend upwards of $2500 on food, each week.
Last year, Subaru of America, Inc. (SOA) and Mid Hudson Subaru presented a check for $57,565 to Sparrow's Nest of the Hudson Valley, enough to help feed more than 20 families in four counties for an entire year.
If you'd like to participate in the 2018 Subaru Share the Love Event, come in to purchase or lease a new Subaru now through January 2, 2019 at Mid Hudson Subaru and choose Sparrow's Nest as the recipient of the $250 Subaru will donate $250 to the charity of your choice.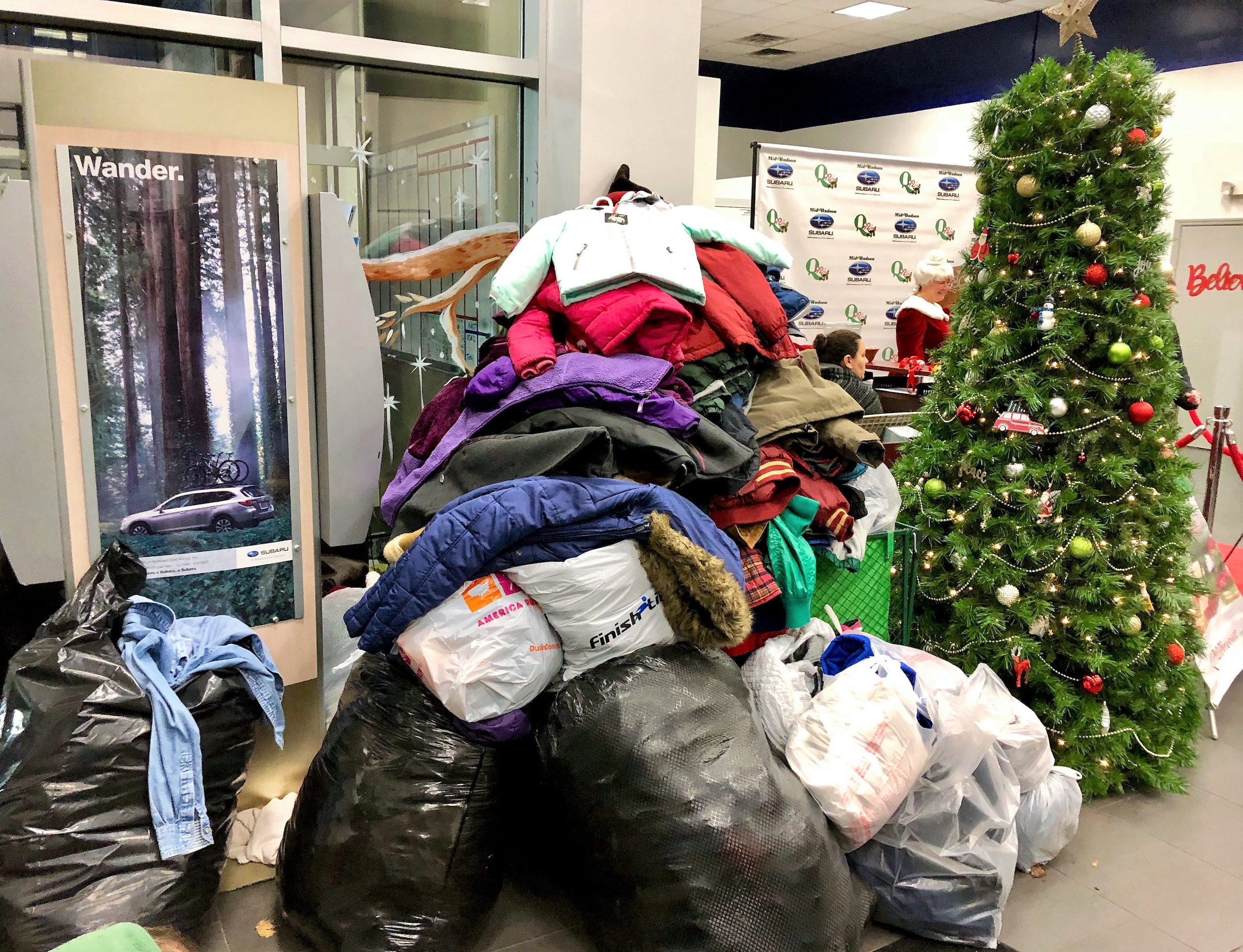 Q92 and Mid Hudson Subaru Annual Coat Drive
Every year Mid Hudson Subaru partners with Q92 and Fidelis Care to collect, sort and distribute gently used coats and jackets to families in need in the Hudson Valley. For 10 years Mid Hudson Subaru has helped coat the community with love. This event originally lasted a few weeks and took up one 6 foot table, it now involves a 40 foot storage unit, 8 tables, multiple volunteers and lasts almost 2 months! Over 10,000 coasts and jackets have been distributed to local families right in time for winter. 
"What amazes me, year after year, is the generosity of our customers," says Peter Maher, owner Mid Hudson Subaru. "Customers have made this a family activity, cleaning out closets, dropping off the jackets together. We even had grandmother that brought her grandchildren to Burlington to have them pick out coats for needy children. It is incredibly humbling to see how the community continues to support this event." 
Coats and jackets are collected from early November through the end of the year. About 1,000 coats and jackets were distributed in 2015.
In 2016, we had another incredible coat drive! We collected over 1,000 coats on the day of our kick-off and bags of coats continue to pour in taking the count to over 2,000 coats. We truly appreciate the donations received by the community and the wonderful volunteers that came to help sort and bag the coats.
This is a wonderful interview done by Donna Reyer at
Hudson Valley News Network
during the 2014 kick off.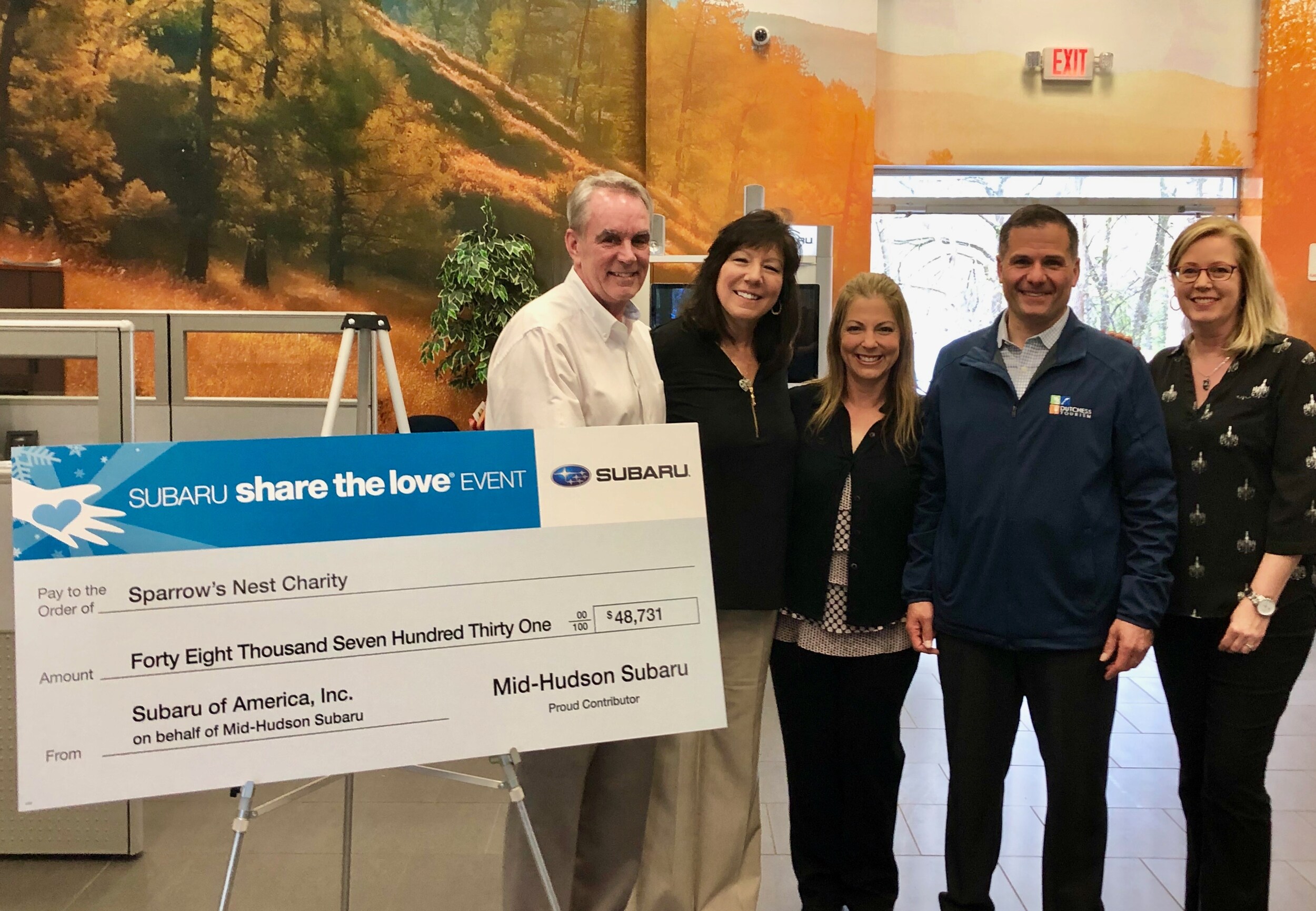 Mid Hudson Subaru Presents Donation to Sparrow's Nest Charity
Subaru of America, Inc. ("SOA") and Mid Hudson Subaru had the pleasure of presenting a check for $48,731 to Sparrow's Nest Charity of the Hudson Valley. Sparrow's Nest provides homemade meals to the families of caregivers and children diagnosed with cancer.
From November 15, 2018 to January 2, 2019, customers who purchased or leased a new Subaru vehicle at Mid Hudson Subaru could select from a list of charities to receive a donation of $250 from SOA and Mid Hudson Subaru. An astounding 97.78% of Mid Hudson Subaru customers chose Sparrow's Nest as their preferred recipient of the donation.
Sparrow's Nest of the Hudson Valley was created in 2012 with the simple idea of cooking for the families of local moms diagnosed with cancer. The dream to help these caregivers of children has grown into feeding thousands of people since the charity's inception.
In 2017, they expanded their mission to include children diagnosed with cancer and in 2018, they expanded to include a 35 mile radius from their kitchen and have not turned away a single family fitting their mission statement. They also now deliver food to families at the Ronald McDonald House at Maria Ferrari Children's Hospital in Westchester.
Sparrow's Nest Founder and Executive Director, Krista Jones said, "We started out feeding 12 people back in 2012 and this year we are feeding 360 people every week!"
This was the second year that Sparrow's Nest was chosen as Mid Hudson Subaru's local hometown charity for the 2018 Subaru Share the Love Event, and has received a total of $106,296 in donations.
Peter Maher, owner of Mid Hudson Subaru, was introduced by Joe Daily of Q92's Morning Show. In attendance were County Executive, Marc Molinaro and State Senator, Sue Serino, Mike Hansen of WRWD, representatives of Subaru Distributor's Corp, the staff and board of Sparrow's Nest and Mid Hudson Subaru staff.
The check for $48,731 was presented to Sparrow's Nest Charity of the Hudson Valley by Peter Maher, Owner of Mid Hudson Subaru.
"I can't express my gratitude enough for this amazing donation or the amazing owner and staff who worked tirelessly to make this happen," Krista Jones wrote on Sparrow's Nest Instagram.
Sparrow's Nest spends a minimum of $2500 each week on food. They pride themselves on being a grassroots organization which uses all donations to serve local families in the Hudson Valley.
Learn More
Athena Award Honoree Peter Maher
The ATHENA Leadership Award® was inspired by the goddess of Greek mythology known for her strength, courage, wisdom and enlightenment?qualities embodied in the ATHENA Leadership Model®. The Award is unique in both scope---local, national and international---and the ATHENA mission upon which it is based. The ATHENA Leadership Award® is presented to a woman ---or man--- who is honored for professional excellence, community service and for actively assisting women in their attainment of professional excellence and leadership skills.
The Chamber Foundation, Inc. is proud to announce the 11 honorees eligible for the 2013 ATHENA Award.  All honorees will be recognized at a private cocktail reception on November 7 before the award is officially presented at the ATHENA Awards Brunch on December 8.  The recipient will later represent the Hudson Valley at a regional ATHENA conference.

The 2013 ATHENA honorees, all chosen by a diverse selection committee because of their demonstrated strengths in career excellence and leadership, community volunteer involvement and willingness to serve as a mentor, especially to women in the business community, include:  

    Ellen L. Baker - McCabe & Mack LLP, Attorneys-At-Law
    Natalie Borquist - Family Services
    Linda G. Campbell - Dutchess ARC
    Lisa M. Cathie - Ulster Savings Bank
    Steven J. Chickery - Hudson Valley Office Furniture  ** chosen to represent the Honorees
    Peter Maher - Mid Hudson Subaru
    Michelle Martin - RiverStone Wealth Management
    Gertrude O'Sullivan - Foundation for Community Health
    Kelly Outwater - Hudson Valley Federal Credit Union
    Angelline Smalls - An'tyrice Salon & Spa
    Sue Sywetz Sullivan - St. Luke's Cornwall Hospital

Bestowed annually, the ATHENA Award is given to a member of the community who best embodies the ATHENA Leadership Model. The Model is unique in that it focuses on personal traits of strong, successful leaders. It captures the spirit and collaborative leadership style often exemplified in women leaders, while also recognizing the importance of qualities such as courageous acts and fierce advocacy in the pursuit of excellence. Cecilia Dinio Durkin, the founder, owner and president of Women's Work, was the Hudson Valley's 2012 recipient.
Since the program's inception in 1982, nearly 6,000 exemplary leaders in over 500 communities have received the prestigious ATHENA Award in the United States, Bermuda, Canada, China, Greece, India, Russia, Unite Arab Emirates and United Kingdom. By honoring exceptional leaders, the ATHENA Leadership Award® Program seeks to inspire others to achieve excellence in their professional and personal lives.
The ATHENA Leadership Award® is presented annually by chambers of commerce, women's organizations and universities. The award is established through local host organizations in partnership with ATHENA International's national underwriters, local businesses and individual sponsors. 
Nominations are solicited and an ATHENA sculpture is awarded to an individual in the community who meets specific criteria listed below. 
The ATHENA Leadership Award® Criteria
ATHENA Leadership Award® Recipients are individuals who: 
Have achieved the highest level of professional excellence.

Contribute time and energy to improve the quality of life for others in the community.

Actively assist others, particularly women, in realizing their full leadership potential.
The Pet Express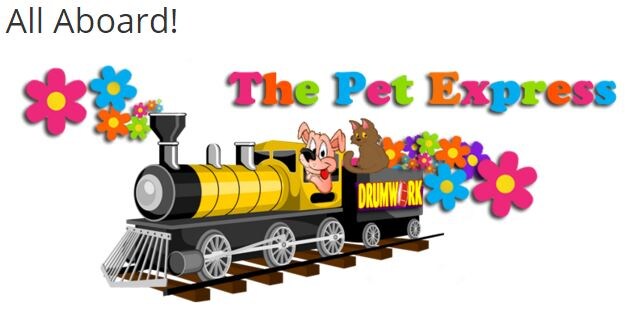 We are delighted to partner with
The Pet Express
to be a drop location for donated supplies.
We can only take non monetary donations. Please visit
ThePetExpress.net
  for information on monetary donations. We are also not equipped to take any animals, again visit The Pet Express for information on animal adoptions.
The Pet Express is an online site that focuses on pet/animal related events in Dutchess County and the surrounding Historic Hudson Valley areas.
Along with other Animal Advocates, they organize and participate in fundraising for local no-kill/non-profit animal shelters including wild life rehabilitation and release shelters. From raising funds to collecting items such as wet and dry dog/cat food, blankets, towels, and animal safe toys as well as collecting monetary donations for these organizations.
Items can be dropped off during business hours only. PLEASE do not leave any donations when we are not open.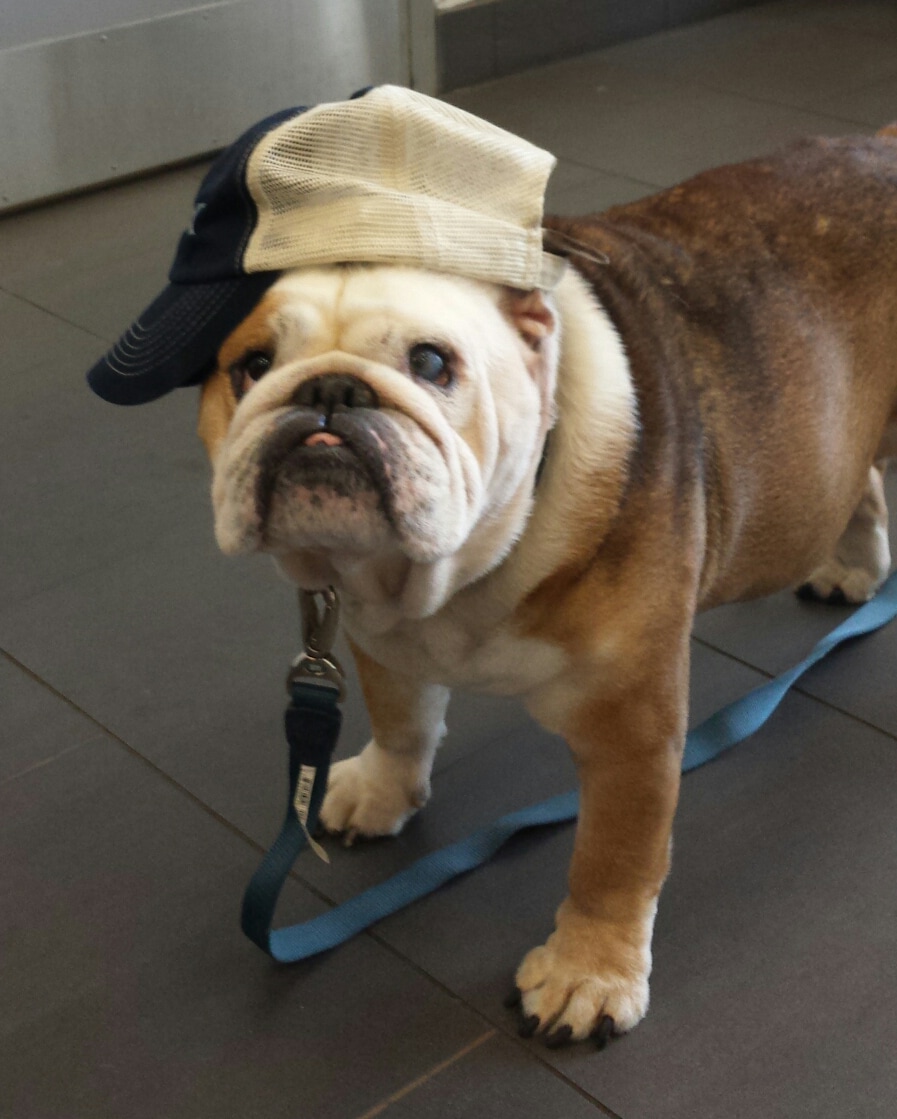 Environmental Policy
Subaru of America, Inc. is a wholly-owned subsidiary of Fuji Heavy Industries Ltd. of Japan. Headquartered in Cherry Hill, New Jersey, the company markets and distributes all-wheel drive Subaru vehicles, parts and accessories.
Their beliefs are: "We believe in making our world a better place. It's why we build fuel-efficient vehicles in eco-friendly plants. It's why we forge partnerships that empower our people and our customers to engage with and improve the world around us."
SOA understands its responsibility to the global environment, society at large, our customers, our distribution network and our employees. As we conduct our business operations into the future, we commit to establish and maintain an effective environmental management system that extends further than just meeting the stated environmental laws and regulations, and that encompasses the integration of sound environmental practices in all of our business decisions.
We commit to:
Comply with all environmental laws and regulations and other requirements related to our business activities.
Implement effective pollution prevention systems that protect our air, land and water.
Conserve natural resources, by reducing, reusing and recycling materials.
Continuous improvement of our Environmental Management System (EMS).
Create employee awareness and commitment to SOA's Environmental Philosophy and Policy.
Work with SOA's business partners to improve their operational impact on the environment.

Subaru of America, Inc. reaffirms our commitment to being a world-class leader in environmental performance.
Here's something to think about: next time you take out your trash at home for collection, you're sending more trash to landfills than the entire Subaru manufacturing plant in Lafayette, Indiana (SIA) does in a year. The Subaru plant was the first auto assembly plant to achieve zero landfill status - nothing from its manufacturing efforts goes into a landfill. It's all reused and recycled. Each year, SIA actively recycles 99.3% of excess/leftover steel, plastic, wood, paper, glass, and other materials. The remaining 0.7% is shipped to the city of Indianapolis and incinerated to help generate steam. In 2006, SIA recycled 11,411 tons of scrap steel, 1,537 tons of cardboard and paper, and 963 tons of wood. That's equal to conserving 31,040 mature trees, 31,572 cubic yards of landfill space, 711,631 gallons of oil, and 10,759,000 gallons of water.
But SIA is no stranger to being a trailblazer when it comes to being environmentally responsible.
In 1994, SIA was also the first auto assembly plant in the U.S. to be smoke free.
In 1998, SIA was the first auto assembly plant in the U.S. to be ISO 14001 Certified.
In 2002, SIA became the first auto assembly plant in the U.S. with an on-site solvent recovery system that produces dry still bottoms.
In 2003, SIA became the first U.S. automotive assembly plant to be designated a wildlife habitat. Deer, coyotes, beavers, blue herons, geese, and other animals live there in peaceful coexistence with the Subaru plant. It's our commitment to leave as small a footprint as possible, delivering real-world benefits that everyone can enjoy.
In 2004, SIA became the first U.S. manufacturing facility to reach zero landfill status.
In 2006, SIA was awarded the U.S. EPA's Gold Achievement Award as a top achiever in the agency's WasteWise program to reduce waste and improve recycling.
Video: Learn more about the Subaru plant.
Green Supplier
To build a green machine, you have to start green. See how we've set and achieved environmental stewardship goals for manufacturing at our Subaru of Indiana plant.
Wildlife Habitat
In 2003, Subaru of Indiana Automotive, Inc. became the first automotive assembly plant to be designated as a Backyard Wildlife Habitat by the National Wildlife Federation. SIA's 800+ acres serves as a home for various wildlife including: white-tail deer, rabbits, Canadian Geese, Mallard Ducks, squirrels, beavers, coyote, snapping turtles, frogs, red-tail hawks, blue heron, and the Bald Eagle. Check out these pictures of our neighbors.
Partial Zero Emissions Vehicles
Subaru offers the most fuel efficient All-Wheel Drive vehicle lineup in America. Since 2003, Subaru has offered Partial Zero Emissions Vehicle (PZEV) certified Legacy, Outback, and Forester models for sale anywhere in the U.S. Subaru PZEV vehicles meet California?s Super-Ultra-Low-Emission Vehicle exhaust emission standard. Gasoline vehicles meeting PZEV emissions standards can have even lower emissions than hybrid or alternative fuel vehicles.

In 2004, Subaru of Indiana Automotive, Inc. became the first automotive assembly plant to be 'Zero-Landfill'. SIA achieved this outstanding accomplishment in May of 2004 and has remained zero landfill. SIA sends nothing from its manufacturing process to the landfill. In other words, a typical household puts more trash in the ground than SIA's entire manufacturing facility.
Subaru of Indiana
(SIA) plant was the first auto assembly plant in the U.S. to achieve zero landfill status - nothing from its manufacturing efforts goes into a landfill. Everything is reused and recycled. Since that time, the Subaru plant has produced zero landfill waste and 100 percent of the by-products from production are reclaimed. In fact, when you carry out your trash at home on the next collection day, you will be sending more trash to the landfill than the entire Subaru manufacturing plant does in a year. SIA is based in Lafayette, Indiana and produces the Subaru Legacy, Outback, and Impreza models.
Click Here to See What Makes Us Eco Friendly
Subaru Corporate Responsibility
At Mid Hudson Subaru we have always had a Social Responsibility strategy and we are happy to announce that Subaru of America has unveiled their own Corporate Social Responsibility Program.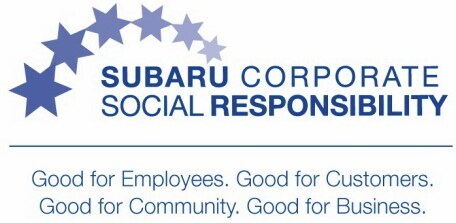 Mid Hudson Subaru and SOA conduct business in a way that is ethical, moral, and has a positive impact on employees, customers, communities and the environment.
For us the pillars of good citizenship are:
Corporate Governance
- to ensure a high standard of respect, ethics and integrity in all dealings
Compliance
- to ensure that business dealings not only meet but exceed the expectations of the law
Employees
- to create a work environment that is safe, healthy, diverse, inclusive and promotes development
Consumers
- to enhance the ownership experience
Community Investment and Involvement
- to build strong communities and improve the quality of life
Environment
- to support sustainable and green initiatives
Showroom Hours
Monday

9:00am - 7:00pm

Tuesday

9:00am - 7:00pm

Wednesday

9:00am - 7:00pm

Thursday

9:00am - 7:00pm

Friday

9:00am - 6:00pm

Saturday

9:00am - 5:00pm

Sunday

Closed