Building Cars that Last
Life is too important to slow down with a car you can't rely on. That's why we build each of our Subaru's with the highest standards of manufacturing, with designs that are inherently tough, and with engineering that can keep you going - all with quality and consistency. This commitment is why 96% of all Subaru's we've built in the last 12 years are still on the road today and why a Subaru keeps its value and stays out of a landfill longer.
Be sure to show your Subaru Love by personalizing your Subaru badges.
Supporting Partners that Care
Subaru has spent decades building relationships with dozens of organizations that believe in building a cleaner, greener, healthier and more hopeful world as much as we do. That's why you'll see us offering our support at events like Dining Out for Life, Earth Day, Leadership Dutchess or promoting responsible recreation with Leave No Trace. 
  During the "
Share the Love
" event, Subaru donates $250 to the owners' choice
  of five charities for every new Subaru vehicle sold or leased from the end of    
  November through early January. In 2014, for the first time ever Subaru
  has included a '6th Charity' in their Share the Love Program. The 6th Charity is a
  local charity that can receive funds from Subaru. Mid-Hudson Subaru has
  chosen
Grace Smith House
as their 6th Charity. We raised $30,000 for Grace
  Smith House!
Grace Smith House was chosen again for the Share the Love 2015 event. The total final donation was just over $43,000.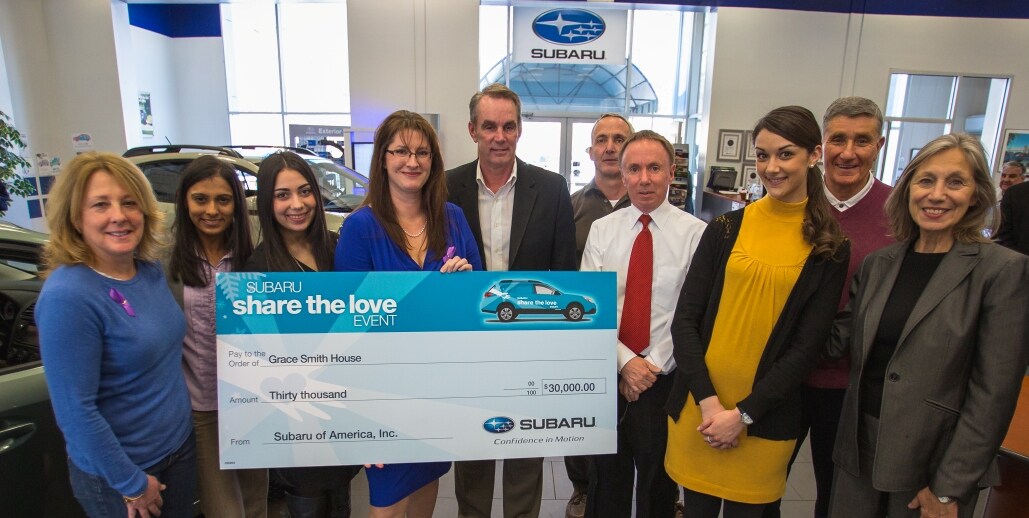 We Love Pets

Dogs are not our whole lives, but they make our lives whole. Read our adoption story
here
.