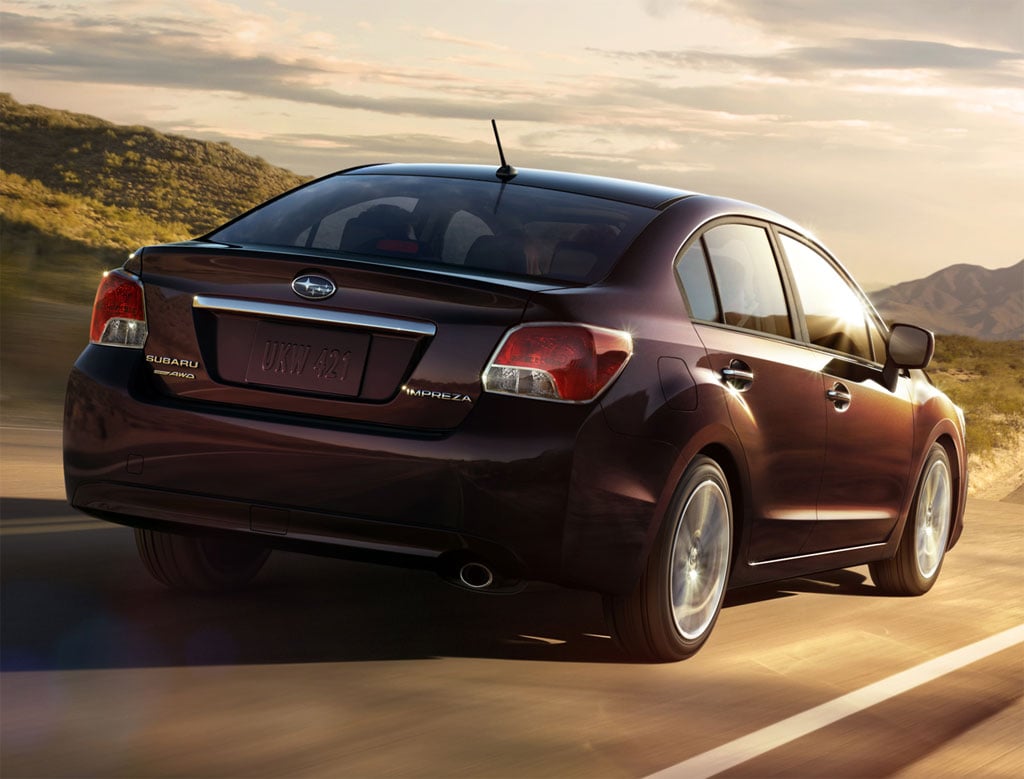 Your life. Your journey. Your Impreza.
A new car is a big commitment, but wait until you find out just how committed the 2013 Impreza will be to you. Not only will it help you save at the pump, it'll reward you on the road with more comfort and versatility. And you know you can count on its trademark Subaru safety and durability to last.

Never Underestimate the Power of Play


View the Impreza Digital Brochure
The current Impreza is the perfect size. It's easy to park and fits in tight spaces, yet it's big enough to carry a full load of your companions and gear. We didn't want to lose any of this, so we found a way to stretch the interior and make it even roomier, while keeping the overall vehicle length and width the same. Now, the trunk on the all-new 2013 Subaru Impreza sedan can carry four golf bags, compared to the previous model's three, and the size of the cargo area in the five-door also increased. Rear seat passengers weren't forgotten either, they gain two inches of legroom. Along with the added space, the 2013 Subaru Impreza also delivers a major step-up in refinement, with richer looking appointments and details everywhere. The dashboard, door trim, and center console armrest are now all made of soft-touch materials.

Interior Features
Inside, the new Impreza is loaded with available features that put control at your fingertips and technology at your service. Thoughtful things like steering-wheel-mounted controls and automatic climate control mean you can focus more on driving and less on fiddling. Let the high-resolution navigation system guide you, while you guide the music with iPod control. Hear a song you like on the radio? You can tag it for purchase with iTunes tagging.
Clean
At 36 miles per gallon, it's the most fuel-efficient all-whell drive vehicle in America. And now it's also one of the cleanest - every 2013 Impreza is Partial Zero Emission Vehicle (PZEV) rated.
Spacious
Its cabin-forward design has opened up the rest of the interior and made room for just about anything and anyone. It means there's more than enough room for you, all your passengers and your cargo.
Fun
Zippy handling. Punchy acceleration. Comfy seating. Combine these with cool technology and engaging features, and you'll never want to park.
Capable
Only a handful of compact cars offer all-whell drive. And none of them offers the legendary traction of Subaru Symmetrical All-Wheel Drive - except the Impreza.